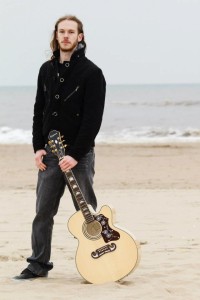 Hi there! My name is Lennert Kemper, born on December 30th, 1991.  I am a professional guitarist, composer, teacher, performer and recording artist hailing from the Hague, the Netherlands. 
The Musician/Composer
Being brought up in a creative and music-loving family (of which some musicians) and taking a year of percussion and big-band lessons in primary school, my obsession with music started at a very early age. It wasn't until I was 14, however, when I started playing guitar and got involved with music seriously.
I have studied with multiple talented teachers, including Rik Fennis, Fredo Wagner and Phil Cosby. I did a conservatory preparatory program at the Malcolm Davies Music Centre in The Hague. Later, I specialized in Music Education for my Bachelor's degree. In addition, I joined my first band at age 15 and have never stopped playing in bands since.
Over the years, I have recorded, written and toured internationally with several bands and projects in a multitude of popular music styles.
I am currently involved in (click on names for more info):
– ReSolve
– TDW & Dreamwalkers Inc.
I also work as a session guitarist and co-writer, both in the studio and live, in various styles. I have worked with Kristoffer Gildenlöw (ex-Pain of Salvation), Dan Pierson, various singer-songwriters and local television stations.
Influences include: John Petrucci, Joe Satriani, Andy Timmons, Marco Sfogli, Steve Vai, David Gilmour, Al Di Meola, Steve Lukather, Allan Holdsworth, Andy McKee, Steve Morse, J.S. Bach, Gary Moore, Tony MacAlpine, Frédéric Chopin, Vinnie Moore, Brett Garsed, Eric Johnson, Paul Gilbert, Nick Johnston, Scott Henderson, John Williams, Eddie van Halen, Ludwig van Beethoven, Yngwie Malmsteen, Dream Theater, Haken, Rush, Symphony X, Pink Floyd, Ayreon, Yes, Toto, Pain of Salvation, Meshuggah, Queen, Pantera, Neal Morse, etc.
Discography (click on titles for more info):
Dan Pierson – Rapture (guest appearance, 2017)
TDW – The Antithetic Affiliation (2017)
TDW – Aphrodisia (EP, 2016)
ReSolve – Wayward Sanctuary (2015)
TDW – Music To Stand Around And Feel Awkward To! (2014)
The Educator
I have been teaching both electric and acoustic guitar since 2008. I have taught hundreds of students between ages 5 and 70+, from absolute beginners to aspiring professionals. My specialty lies with rock and metal, but I also teach blues, pop, funk, folk and basic jazz. I also offer in-depth tuition in applied music theory, ear training and songwriting.
As a teacher, my goal is to make a difference in people's musical lives. I have found teaching to be one of the most fulfilling aspects of my life. I have taught both in private and group lesson formats, in person at several local music schools and in my own teaching studio in Voorburg, the Netherlands, as well as online through Skype worldwide.
I'm currently available for lessons, both in person in Voorburg, Gouda and 's-Gravenzande (the Netherlands) and on Skype! For more information and testimonials from (former) students and parents, click on the "Lessons" tab above. Also feel free to get in touch with me!
TESTIMONIALS/CRITIQUE: 
"Awesome solos" – Background Magazine
"The guitar solos are mad, manic and, ultimately, a hell of a lot of fun" – Progradar 
"Blistering solos"  – Metalfan.nl 
"Outstanding guitar playing" – Lords of Metal 
"Epic guitar solos, almost animate in fluidity" – Lady Obscure 
"Great guitar work" – Gaesteliste.de 
"Beautiful arrangements, filled with attractive and striking details" – Wings of Death 
"Beautiful melodic solos filled with emotion" – MusicMeter