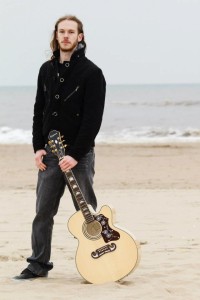 Hi there! My name is Lennert Kemper, born on December 30th, 1991.  I am a professional guitarist, composer, teacher, performer and recording artist from The Hague, the Netherlands. 
Being brought up in a creative and music-loving family (of which some musicians) and taking a year of percussion and big-band lessons in primary school, my obsession with music started at a very early age. It wasn't until I was 14, however, when I started playing guitar and taking my first lessons.
I have studied guitar with multiple talented teachers, including Rik Fennis, Fredo Wagner and Phil Cosby. I did a conservatory pre-professional program at the Malcolm Davies Music Centre in The Hague. My passion for teaching and helping others led me to specialize in music pedagogy for my bachelor's degree. In addition, I took online courses from Berklee College of Music and participated in workshops by virtuoso guitarists, including Andy Timmons, Mike Stern and Ezequiel Menalled.
I joined my first band at age 15 and have never stopped playing in bands since. Over the last 10+ years, I have recorded, written and toured internationally with several bands, projects, artists and producers in a multitude of popular music styles. These include Dreamwalkers Inc., Elithium, Kristoffer Gildenlöw (Kayak, Pain of Salvation, For All We Know, Neal Morse, Robby Valentine), TDW, ReSolve, Dan Pierson (Ayreon), Heidevolk, various singer-songwriters, pop bands, cover bands and local television stations.
I'm currently available for customized lessons and coaching in guitar, music theory and songwriting, for studio and live session work and transcription work. Feel free to get in touch for more information!
Discography (click on titles for purchase links):
TDW – The Days the Clock Stopped (guest appearance, 2020)
Dreamwalkers Inc – A Night at the Theatre (live release, 2020)
Dreamwalkers Inc – First Re-Draft (2019)
Dan Pierson – Rapture (guest appearance, 2017)
TDW – The Antithetic Affiliation (guest appearance, 2017)
TDW – Aphrodisia (EP, guest appearance, 2016)
ReSolve – Wayward Sanctuary (2015)
TDW – Music To Stand Around And Feel Awkward To! (guest appearance, 2014)
TESTIMONIALS/CRITIQUE: 
"Awesome solos" – Background Magazine
"The guitar solos are mad, manic and, ultimately, a hell of a lot of fun" – Progradar 
"Blistering solos"  – Metalfan.nl 
"Outstanding guitar playing" – Lords of Metal 
"Epic guitar solos, almost animate in fluidity" – Lady Obscure 
"Great guitar work" – Gaesteliste.de 
"Beautiful arrangements, filled with attractive and striking details" – Wings of Death 
"Beautiful melodic solos filled with emotion" – MusicMeter 
"Tasty guitar solos" – The Progspace
"Simply wonderful lead guitar work" – Progplanet
"Unmatched guitar solos" – Progwereld
"Solos to die for!" – Dutch Progressive Rock Page