GITAARLES IN VOORBURG/'S-GRAVENZANDE/GOUDA/VIA SKYPE – for English, please scroll down – 
Hallo (nieuwe) gitaristen!
Ik geef met veel plezier gitaarlessen op maat aan alle leeftijden en niveaus!
Dit doe ik op 3 locaties:
bij de Goudse Popschool aan de Jan Tinbergenstraat 15 in Reeuwijk
bij Popschool Westland aan de Vreeburghlaan 16 in 's-Gravenzande
in mijn eigen lespraktijk in Voorburg
Woon je niet in de buurt van één van deze locaties? Geen probleem! Ik geef namelijk ook les via Skype – les bij jóu thuis, vanuit je luie stoel!
Proefles = gratis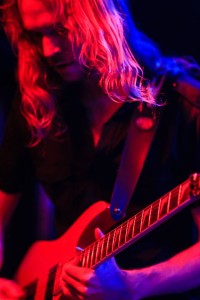 !
Heb jij altijd al elektrische of akoestische gitaar willen leren spelen?
Voelt jouw gitaarspel aan als een sleur en wil je het écht naar een hoger niveau tillen?
Wil je dé nieuwe (shred-)virtuoos worden, je favoriete nummers leren spelen en/of zelfs je eigen nummers leren schrijven?
Wil je meer te weten komen over verschillende gitaartechnieken, zoals alternate picking, legato, sweep picking, fingerpicking, vibrato, bends, slides, tapping, timing, frasering, tokkelen, enz.?
Heb je altijd in een band willen kunnen spelen, als een echte rockster op het podium willen leren staan en/of je eigen sound willen kunnen bouwen?
Wil je leren (beter te) improviseren en/of jezelf kunnen begeleiden op de gitaar?
Hou je van rock, metal, blues, punk, pop, folk of funk, maar kun je niet de juiste leraar bij jou in de buurt vinden?
Zoek niet verder, ik kan en zal je helpen bij het bereiken van jóuw muzikale doelen. Dat is mijn missie en belofte aan jou.
Niet alleen voor gitaristen!
Naast gitaarles kun je bij mij ook terecht voor les in muziektheorie, solfège en songwriting. Ook geef ik bandcoaching op locatie. Neem gerust contact op voor meer informatie!
"Oké, maar wie is die Lennert eigenlijk?"
Gitaarles geven doe ik al vanaf 2008, vanuit een missie om anderen op weg of verder te helpen op het instrument en het maken van muziek mogelijk te maken voor iedereen. Met andere woorden: iedereen is muzikaal en kan gitaar spelen! Inmiddels heb ik honderden leerlingen geholpen, gecoacht en begeleid om de eerste stappen te zetten of beter te worden als gitaristen en muzikanten. Ik heb ervaring met het geven van privé- en groepslessen gitaar, songwriting, muziektheorie, het leiden van muziekworkshops en het coachen van bands. Dit heb ik gedaan bij diverse muziekscholen, bedrijven, in mijn eigen lespraktijk en online wereldwijd via Skype. Mijn lesmethode is modern, flexibel, persoonlijk en gestructureerd – jóuw leerdoelen en speelplezier staan voorop! Daarnaast sta ik als professioneel uitvoerend muzikant middenin de praktijk en integreer ik deze ruime kennis en ervaring in mijn lessen.
Download hier mijn CV of kijk gerust op mijn LinkedIn-profiel.
Wat bied ik nog meer?
Een gestructureerd lesprogramma dat ik jou persoonlijk aanmeet
Geduld en opbouwende feedback op je gitaarspel
Een veilige leeromgeving waarin je álle fouten van de wereld mag maken!
Enthousiasme voor beginners bij het zetten van de eerste stappen op de gitaar
De mogelijkheid om behandelde lesstof te filmen – ik speel een liedje, loopje of ritme extra langzaam terwijl jij filmt, bijv. met je smartphone
Duidelijk uitgeschreven materialen, zoals PDF's, schema's en tablatuur/notatie m.b.v. software als Guitar Pro 6 en Neck Diagrams en handgeschreven A4'tjes
Lessen in muziektheorie en songwriting die je metéén kunt toepassen in je gitaarspel – akkoordenopbouw (drieklanken / vierklanken / omkeringen / toevoegingen), progressies, toonladders, modi, arpeggio's, gehoortraining, solfège, harmonie, enz.;
Specialistische lessen in instrumentale rock, vb. Joe Satriani, Steve Vai, enz.
Lessen in halsoriëntatie op de 7-snarige gitaar en het toepassen van 'extended range'
Lessen in het gebruik van handige software, zoals Guitar Pro, Neck Diagrams en Cubase (voor eigen nummers, transcripties en opnames)
Bijles en huiswerkbegeleiding bij muziek als HAVO/VWO-vak
Eerlijk en persoonlijk advies bij de aanschaf van een gitaar en onderdelen
Voorbereiding op toelating conservatorium/Rockacademie/Herman Brood Academie/Metal Factory, enz.
Carrièrecoaching en -advies op maat
Lesvormen: 
Privéles (1-op-1)
Duoles (met z'n tweeën)
Groepsles (3 of meer) / Bandcoaching
AANVULLENDE INFORMATIE 
Ik ben in het bezit van een KvK-nummer en een Verklaring Omtrent het Gedrag (VOG).
In tegenstelling tot de meeste muziekscholen in Nederland, loopt mijn eigen lespraktijk op de dinsdag door in de reguliere schoolvakanties. Indien er een vakantie gepland staat binnen een reguliere schoolvakantieperiode, is dit bij tijdig afmelden verder geen enkel probleem. De muziekscholen waarop ik werkzaam ben lopen wél met de reguliere schoolvakanties mee. De exacte vakantieagenda's vindt u op hun websites.
In mijn lespraktijk in Voorburg is het mogelijk om losse lessen te boeken in plaats van een reeks lessen. Neem gerust contact op voor meer informatie!
CONTACT
Wil je meer informatie? Stuur me dan een bericht via het kopje "Contact" of een e-mail naar info@lennertkemper.nl.
Telefonisch ben ik te bereiken op 06-34202457.
Neem ook gerust een kijkje op mijn gitaarles-pagina op Facebook: https://www.facebook.com/lennertkempergitaarles/
Ik hoop je gauw te spreken!
REFERENTIES
"Gitaarlessen van Lennert zijn motiverend, gaan op jouw tempo, worden aan jou aangepast en voelen aan als een gesprek tussen twee gelijken. Dat maakt het gemakkelijk communiceren, en het maken van fouten tijdens de les is niet erg (wordt zelfs aangemoedigd want daar leer je van). Ik heb nu al zin in de volgende les!" – Saskia Aanstoot 
"De lessen van Lennert zijn altijd boeiend. Hij motiveert je constant om door te zetten en je te focussen op wat je wilt leren of dingen die je wilt verbeteren. Van de basis tot de wat complexere elementen van het gitaarspelen, alles is mogelijk en theorie wordt niet op een droge manier uitgelegd. Een mooie kans om je gitaarspel stapje voor stapje naar een hoger niveau te tillen!" – Benedikt Stöckl 
"Bij Lennert wordt er gefocust op je eigen doelstellingen. Er wordt zo aandacht besteed aan wat jij wilt en hoe jij jezelf wilt zien als gitarist. Lennert helpt met het (goed) aanleren van technieken en legt theorie zo uit dat je het meteen kunt toepassen. Kortom, bij Lennert word je de gitarist die je worden wilt!" – Daan van der Giessen 
"Lennerts lesmethode is super gestructureerd, met een mooie persoonlijke 'finishing touch'!" – Lorenzo Lammertink  
"Iedere les is een avontuur! Lennert geeft heldere uitleg en leert je stap voor stap met veel geduld je instrument eigen te maken." – David Gutierrez Rojas 
"Sinds de lessen van Lennert ben ik steeds meer vertrouwd op de gitaarhals!" – Jan Oomen
"Mijn zoon Lucas (14 jaar) vond de lessen van Lennert erg leuk! Hij is in korte tijd heel erg vooruit gegaan met alle tips en advies." – Ann Thornton-Binken
"Ik haal zó veel plezier uit de lessen van Lennert, dat ik niet meer van de gitaar kan afblijven! Elke les kom ik weer een stapje verder. Een aanrader!" – Hans Stil
"Lennert is een fantastische leraar. Naast muziek heeft hij ook talent voor het lesgeven. Bekijk zijn filmpje! Alles wat hij zegt, is waar. Zijn manier van lesgeven, is volledig gericht op de behoeftes van de leerling. O ja, en het is altijd leuk! Hij motiveert je om het beste uit jezelf te halen." – Akos Pesti
"Ik volg sinds februari 2018 gitaarles bij Lennert. De lessen zijn leuk, leerzaam en hebben ervoor gezorgd dat ik veel meer plezier in het gitaarspelen heb gekregen. Met met al ben ik erg tevreden met Lennert als docent!" – Joey Poot 
---
GUITAR LESSONS IN VOORBURG/'S-GRAVENZANDE/GOUDA AND VIA SKYPE
Hello (new) guitarists!
It is my pleasure to offer YOU customized guitar tuition via Skype (click for free download), wherever you are in the world! If you are looking for English spoken local lessons in Voorburg, 's-Gravenzande (both near The Hague) or Gouda, the Netherlands, then you are also more than welcome! I teach all ages and playing levels, from absolute beginners to aspiring professionals.
I also offer tuition in music theory and songwriting.
Trial lesson = FREE! 
 Have you always wanted to learn to play guitar or dramatically improve your playing much faster?
 Are you stuck in a rut and in need of personal advice to get your guitar playing to the next level?
 Do you want to become the new (shred) virtuoso, play your favorite tunes and/or be able to write your songs?
 Do you want to learn more about different guitar techniques, such as alternate picking, vibrato, bending, legato, sweep picking, tapping, sliding, fingerpicking, etc.?
 Do you want to be able to play in a band, learn to perform onstage like a real rock star or set up your own tone?
 Do you want to improve your improvisation skills and/or accompany yourself on the guitar?
Are you into (prog) rock, metal, blues, punk, pop and/or funk, but can't find the right instructor in your area?
I can and will help you reach YOUR musical goals. That is my mission and promise to you.
"So, who is this Lennert guy?"
I have been teaching guitar and music since 2008, on a mission to inspire and help others reach their musical goals. As a teacher, I genuinely care about my students' progress and enjoy teaching all ages equally. Over the years, I have helped, coached and mentored hundreds of students to take their first steps or improve on the guitar and their musicianship. My goal is to keep doing so and make a difference in people's (musical) lives.
I have taught both in private and group lesson formats, in person as a freelancer, both at local music schools and privately, but also online worldwide through Skype. As a professional guitarist active both live and in the studio, I am acquainted with the music industry and integrate this knowledge and experience in my lessons.
What else do I offer?
A personalized teaching program, tailored to YOUR specific goals and needs;
Constructive feedback on your guitar playing;
A safe learning environment in which you can make ALL the mistakes in the world!
Enthusiasm for beginners in taking their first steps on the guitar;
Written materials, including handwritten notes, charts, PDF's and tablature/notation through Guitar Pro 6 and Neck Diagrams softwares;
Music theory and songwriting lessons you can apply IMMEDIATELY to your guitar playing – chord structure (triads, four-voice, extended, inversions, etc.), progressions, scales, modes, arpeggios, ear training, (jazz) harmony, etc.;
Specialized tuition in Instrumental Rock, such as Joe Satriani, Steve Vai, etc.
Tuition in 7-string guitar fretboard orientation and extended range application
Tuition in the use of helpful software, such as Guitar Pro, Neck Diagrams and Cubase (for own compositions, transcriptions and recordings);
Help with coursework, such as graded International Baccalaureate Music (SL and HL) assignments;
Advice in buying a guitar and parts;
Additional videos (if necessary)
Audition and examination preparation
Further education and career advice
What do you need? 
A Skype account, which you can download FOR FREE!
An HD webcam with audio, so I can see and hear you play.
A positive attitude! 😉
Lesson packs 
1 lesson (consultation)
4 lessons
8 lessons
12 lessons
16 lessons
All lessons are offered in 30, 45 or 60 minutes in length. The chosen length of lessons will determine the rate.
NOTE: The more lessons you purchase, the cheaper they become!
Terms and Conditions 
If you are interested in taking lessons with me, please read my Terms and Conditions carefully.
For more information, feel free to fill in the contact form on this website or e-mail me at info@lennertkemper.nl.
I hope to talk to you soon!
TESTIMONIALS
"Guitar lessons from Lennert are motivating and tailored to you as a student. Practice is complemented with theory if/when this helps understand why things work the way they do. The lessons truly feel like a conversation between equals, which lowers the threshold to make mistakes (which he actually encourages; those are the moments you learn the most)! Can't wait 'til my next lesson!" – Saskia Aanstoot 
"Lennert's lessons are always interesting. He constantly motivates you to persevere on methods you either wanted to learn or need improvement on. The whole spectrum from the basics to more complex stuff can be taken through, theoretical subjects aren't taught too dry. Good chance on proceeding on your guitar playing step by step!"  – Benedikt Stöckl  
"During his lessons, Lennert focuses on your personal goals as a guitar player. He makes sure you learn techniques the right way, but also explains theory in an applied fashion, which is very useful.  In other words, with Lennert, you'll become the guitarist you want to be!" – Daan van der Giessen 
"Lennert's teaching strategy is very structured, with a nice personal finishing touch!" – Lorenzo Lammertink 
"Every lesson is an adventure! Lennert explains concepts very clearly and teaches you step by step with a lot of patience to create your own voice on the instrument." – David Gutierrez Rojas 
"Since studying with Lennert, I am getting increasingly more comfortable and familiar on the guitar neck!" – Jan Oomen
"My son Lucas (14) really enjoyed his lessons with Lennert! He improved a lot in a short time with all the tips and advice that he got." – Ann Thornton-Binken
"The lessons with Lennert are so much fun, I can't keep my hands off the guitar! Every lesson is a new small victory for me. I really recommend him!" – Hans Stil
Lennert is a fantastic teacher. Next to music, he also has talent for teaching. Watch his promo video, everything he says is true! His teaching style is fully tailored to the needs of the student. Oh yeah, and it's always fun! He really motivates you to get the best out of yourself." – Akos Pesti
"I have been taking guitar lessons from Lennert since February 2018. The lessons are fun, helpful and have made playing guitar so much more enjoyable for me. All in all, I am very happy with Lennert as my teacher!" – Joey Poot